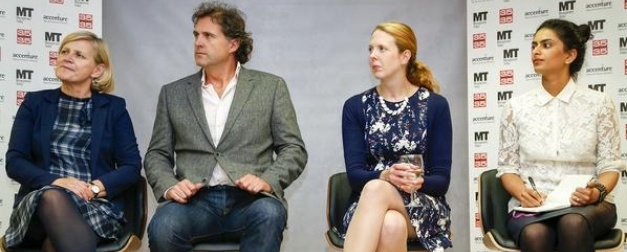 Image courtsey of Management Today
Yesterday evening the itpr team headed to the 'Disruption: do women do it differently?' panel discussion set up by Management Today to find out what Cilla Snowball, Group Chairman and Group Chief Executive of leading ad agency AMV BBDO, Smruti Sriram the CEO of fabric bag manufacturer Supreme Creations, John Vincent who co-founded the healthy fast food chain Leon, and Isla Kennedy a digital consultant at Accenture, had to say on the topic of women in business.
Aside from being set in a venue with panoramic views of the Shard, there was a certain buzz in the room with some of the recently announced Management Today 35 under 35 mingling during the initial networking session.
The topic of women in business is well discussed within the media, and has featured many times beforehand in Management Today, but the focus of the evening was to understand how exactly women work differently to their male counterparts and what skills women can utilise to be successful.
With a diverse panel of entrepreneurs and large businesses, there was a great mix of views, opinions and real life reflections relevant for anyone no matter where they may be in their career or industry.
Matthew Gwyther, Editor, Management Today, provided the perfect, compère-like approach to the evening but most importantly put the panellists to task answering some challenging questions.
Here at the itpr office we are all for sound business advice and it was great to hear from the panel on business elements such as; the impact of the changing digital world, building a business for success, adopting a culture of entrepreneurship, embracing innovation and team leadership skills.
So what did we learn? Below is a round-up of our favourite takeaways from the panellists which will hopefully provide as inspirational to you as they were to us when we heard them:
Snowball
o "You will be at your best when you work with people who you trust" – in relation to team dynamics.
o "Businesses are going through seismic changes" – in relation to the economic outlook.
Sriram
o "Beam it out" – in relation to practical advice to take a positive approach to business, the ability to put your business aspirations out there.
Vincent
o "Never attack, but always hit first" – in relation to being agile in business but the concept comes from a form of martial arts.
Kennedy
o "Not about being stuck in old ways" – in relation to innovation within a business.
o "We have to become more agile and fast paced" – in relation to business and adapting.
It was great to see the Management Today editorial team and have the opportunity to hear from such inspirational speakers – we can't wait for the next one!
Read our eBook '10 Tips Launching B2B Tech PR'