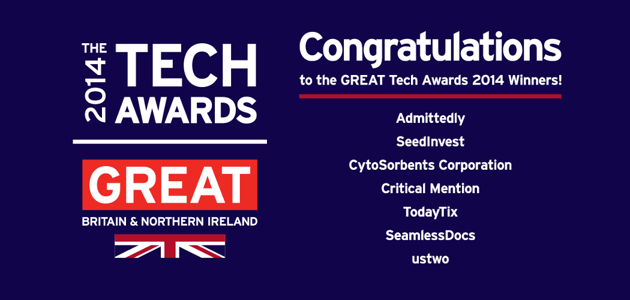 Last month we took the opportunity to attend The GREAT Tech Awards Roundtable to hear from companies who have crossed the pond to take advantage of the growing UK technology industry. We have personal experience of introducing US technology companies into the UK and that are looking to make a 'splash' in the UK media – excuse the pun – so we were keen to attend to hear one of our clients, Sailthru, take part in the discussions.
The GREAT Tech Awards is run by UK Trade & Investment (UKTI) and the British Consulate General New York and are designed to help US technology start-ups and more established companies expand their businesses into the UK.
The one-day roundtable event was held at Blick Rothenberg LLP and attended by a number of companies ranging from UKTI, Sailthru, Taylor Wessing, Intent Media and Propel London. Key topics covered at the event included what the UK start-up scene had going in its favour - these included the growing talent pool, the growing number of opportunities and initiatives to support the UK Tech community, such as the support that the 'Silicon Roundabout' is receiving. One key highlight discussed during the afternoon was that for many US start-ups and established business looking to break into the UK, getting the right team and talent on the ground is an important element for success – making sure that there is sufficient opportunities available to those on the ground and to encourage an entrepreneurial spirit within the company as they are at the front line of the expansion.
All in all it was a very informative event and provided a good insight into the challenges that US companies face when making the well trodden journey across the pond to expand their service offerings into the UK. You can read more about the winners and the tailored package they receive by clicking here.