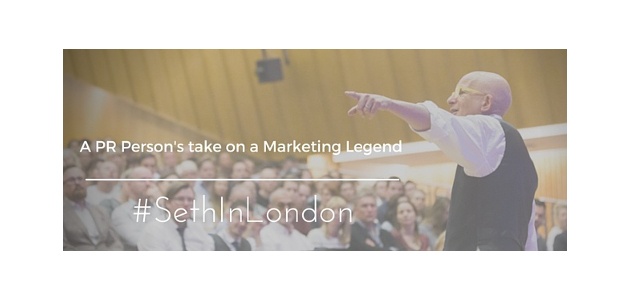 As a PR person I am very aware of who Seth Godin is and his vision – so when I was invited along to his Seth in London Live Q&A session, at Imperial College, I jumped at the chance!
However, I was slightly worried that it would be full of marketing speak – while I work alongside my marketing counterparts at The B2B Marketing Lab and understand the bigger picture of marketing, did I really want to sit through hours of discussion around lead generation and how to market 'stuff' better? Would it be relevant to me as a member of itpr?
Yes it was!
Several things struck me in his almost five hours of Q & A, one overpowering one was the can-do attitude that Godin has – not just about Marketing, but life in general, his message was incredibly positive – something which is reflected in the opening pages of his latest book 'What to do when it's your turn' with a quote from Leonard Bernstein which reads 'I'm no longer quite sure what the question is, but I do know that the answer is yes.'
The Q&A session urged every member of the audience to look at their internal narrative – and see that the key to successful marketing and life in general is to understand what people want from you, your brand or your product, realise how they see its place in their life – the stories which they tell themselves as to how it will provide value to them and how you can meet that requirement. If you can't meet the requirement and people don't get what you are offering, then accept that it isn't for them and move on.
PR is all about creating an understanding for the recipient – knowing what your audience requires - whether that is a thought leading opinion, a reassuring case study or a news release for the early adopter, noticing what is required and providing a solution is key as is getting the recipient excited about what you are offering – 'Creating something that is so good that people can't sleep without talking about you.'
In order to create this, it is important that the ideas do not just come from you, you take into account what is required, what people want and how they see its value in their life - the interactions which you have with people whose opinions you seek to change are vital in order to get your message across, and get people 'buying-into' what you are offering them – talking about the possibilities ahead and giving the power back to them, after all, great work doesn't come out of nowhere, it comes from the interactions that you have with people whose opinions you seek to change.
The final quote which I would like share is one which resonated with me and tells us that there are endless opportunities available to us all, whether that is as Marketers, PR's or just people sharing the earth - 'All you need is the willingness to do your best work. If you fail, just try again'.