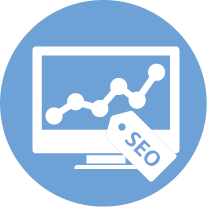 Search Engine Optimisation is the technical process of making sure that Google and other search engines understand and correctly index the whole of your web presence. The management of this set of processes is a vitally important component of any marketing mix. It is in itself a 'free' service in as much as once correctly optimised, Google will find your webpage and present it to those searching for your keywords and will bring them to your website. It is not a free service when you consider that to be successful in business you must draw thousands of people to your website on a monthly basis, because in the modern marketplace no one buys from anyone without having reviewed the website.
The process of SEO management is a direct and active programme which requires continuous refinement to ensure that best results are achieved. But be aware of SEO, in that it is a highly competitive process and as you ascend through the rankings you will push your competitors further down and vice versa
Therefore do not be surprised to find that your rankings change on a weekly or even daily basis, as others spend time and money on this process to boost and support their own brands.
One thing that you can clearly state is that a well optimised website will bring a substantial number of visitors to that website by nothing other than search volumes. That is to say, that once correctly set up, your website will continue to perform and bring in new visitors based asround the search term or terms that you have optimised the web page or pages for.
To find out more about about the Search Engine Optimisation services that we can support you with, visit our sister companies – The B2B Marketing Lab & Be Found Online.