When does your business need PR?
Choosing the right moment to engage PR is a tough decision.
Get it wrong and you can waste time and money. But get it right and you can take the promotion of your business to the next level, reaching future customers that you never thought possible.
So how do you know when it is the right time that your business needs to hire a PR agency?
To help you understand when the right time to invest in either a PR freelancer, a PR Agency or just increase your own efforts, we've created a short eBook that guides you through the decision making process.
To download your free copy, simply complete the form for immediate access.
By downloading this eBook you will discover:
When it's the right time to engage a PR Agency.
What to be wary of when choosing a PR partner.
What you should do to measure success.
How to make the right choice.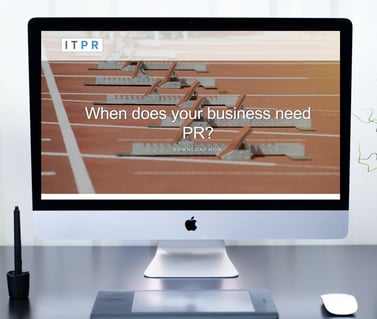 A little teaser into our eBook...
There comes a point where your business needs to grow up. You've reached a milestone in your growth where you're in desperate need of promotion in the media, but lack the resources to do it.
Fed up with being the best kept secret in your industry?

Sick of seeing competitors get the limelight?

Tired of explaining to prospects why your products and services are miles better?
To get your business noticed, it's time to widen the reach to an audience outside of the usual crowd.

But before you invest in PR, you need to make sure the other bases are covered - marketing, advertising, website SEO, social media - so that you can hit a home run.