The definitive method to PR measurement
According to a joint report between PR Week and Cision, 33% of PR professionals in Europe rank the inability to measure impact effectively as a top concern.
However, as more content moves to online and digital platforms there are a number of analytical tools that can provide your business with the ability to track success through real time metrics.
How can you successfully measure PR?
Using tools such as Google Analytics allows you to accurately measure the impact of your PR campaigns, as well as analyse the entire buyer journey of your customers - from awareness and engagement to conversion and sales. Having accurate data using analytical tools can put your business on the right track to measure PR success.
To download your free copy, simply complete the form for immediate access.
By downloading this eBook you will discover:
Digital vs traditional PR measurement
Why your Website should be at the centre of all measurement
The importance of link building and SEO in PR measurement
Using Google Analytics for PR Measurement
Setting PR measurement goals - what does success look like?
Social media measurement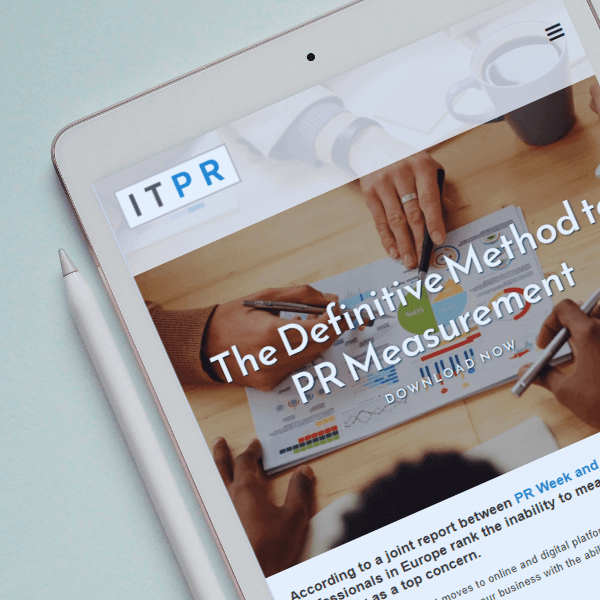 A teaser into our eBook...
The move to digital has ultimately changed the way we measure the impact of PR. Which is good news, as measurement is an area PR has long struggled with. To justify investment, some PR professionals have come up with a lot of confusing metrics over the years - from obscure in-house KPIs, to the dreaded 'advertising value equivalent'.
Today, valuable metrics are closely aligned to the best selling tool businesses have at their disposal - the website. When it comes to digital PR, targeting high domain authority websites to earn backlinks to your website using creative and informative blogs is a great way of improving Google rankings and web traffic - something traditional PR agencies have struggled to do.
The addition of tools such as Google Analytics in the PR toolkit means evaluation and reporting can be much more detailed and scrutinised, stopping PR agencies from unjustly claiming that the work they are doing is making a difference to your business.