The state of Internal Communication in UK Businesses
How good (or bad) is your business at communicating with their employees?
There is still a lot we don't understand when it comes to the impact Internal Communication has on a business because it has only been studied at an academic level for 30 years.
We've conducted this research to investigate the state of Internal Communication in UK-based medium sized businesses.
Truly effective, engaging and two-way Internal Communication delivers bottom line benefits through improved employee retention, productivity and wellbeing.
It encourages compliance to business processes and is a core component of successful change management. It boosts advocacy through better staff engagement.
Is it time that your business paid more attention to Internal Communication?
To download the report in full, please fill out the form on the right hand side.
Download our Market Research report
A look into our market research...
Researching Internal Communications in 2022
Internal Communication is often a second thought to strategic decision making and we feel it's time that those responsible for Internal Communications had a seat in the boardroom.
Inept Internal Communication can be hugely damaging to a company's reputation and also to the bottom line. Yet many Internal Communication misfires can be avoided by having a clear and planned Internal Communication strategy.
But of course, we would say that!
So to find out how UK businesses approach Internal Communication, we conducted our own Internal Communication research project. We asked 200 UK-based decision makers working in HR, Marketing or Communications from companies with more than 100 employees how they approached their Internal Communication and planned their strategy.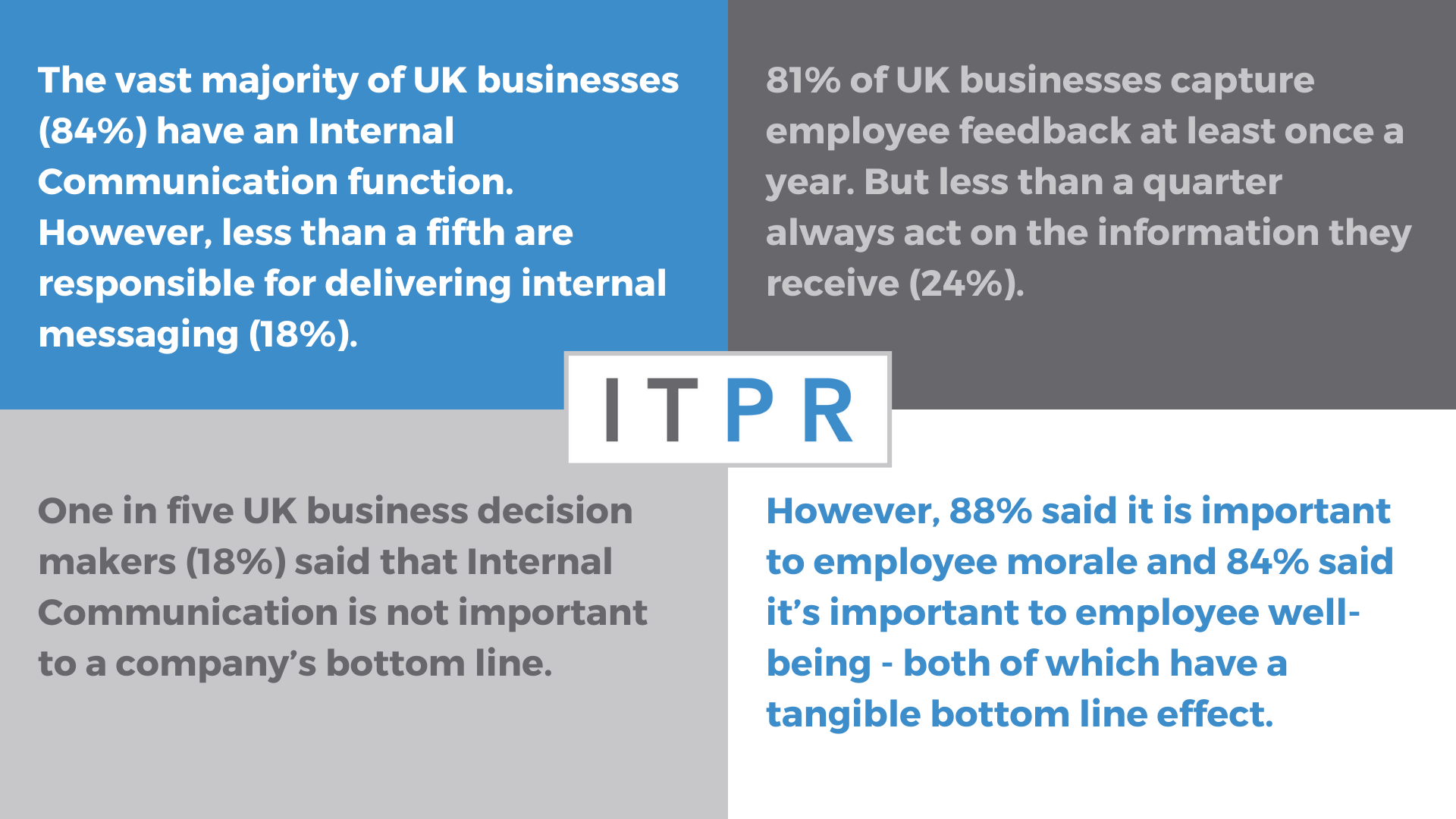 Like it or not, the 'C' word has changed our working lives forever
Covid - the one word that the majority of people are tired of hearing. But the change it has brought about has increased the importance of communicating effectively with employees - especially if they are spread across different locations.
The leaders of UK businesses are looking for new ways to ensure employees spread over multiple locations and working different shift patterns remain informed, engaged, productive and understand the business objectives.
In order for Internal Communication to be effective, it must ensure that employees are fully-engaged. In order to do this, employees have to see that the organisation values their views and opinions and individual contributions to the overall business objectives.
However, this research confirmed that a third of UK business decision makers (33%) said that remote or hybrid working has made it more difficult to deliver their Internal Communications.
Do you know what your business is doing to make sure your employees don't feel disconnected?
Download the report in full and find out:
How your business stacks up against the rest.
How Internal Communications can quickly become confused
The importance of employee feedback
The challenges that limit investment into an Internal Communication strategy